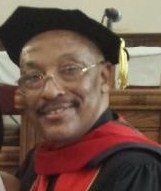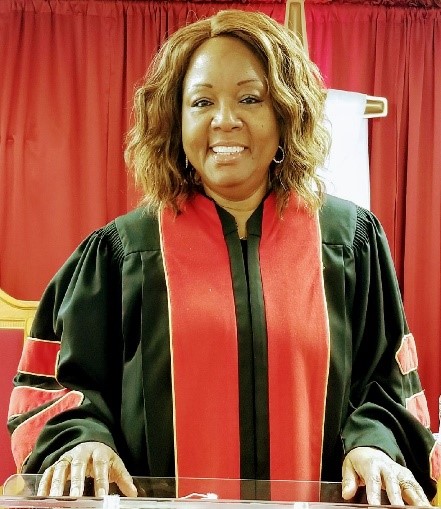 Reverend Dr. Ralph H. Hoist, III is a native New Yorker and the only son of the late Gertrude Louise and Ralph Hilton Hoist, Jr. His early education was accomplished through the Board of Education, New York City School System. Upon leaving school he began working for the United States Postal Service until he was drafted and inducted into the United States Army during the Vietnam War. Doctor Hoist is married to Reverend Ellen Regina Hoist who serves with him as Co-Pastor of Bethel Baptist Church in St. Albans, NY, and is the father of five children: Ralph IV, Danette, Philip, William and Easter. He is the proud grandfather of five: Tajah Rajaa, Kenneth, Bree Michele, Jordan, and Calee.
Dr. Hoist started serving in the church, in his youth, as an Episcopal altar boy, and later, after entering adulthood, became a Muslim under Elijah Muhammad and Wallace D. Muhammad believing he was destined to become a Muslim Minister. God had other plans and put His hand on him to begin his Christian walk at Memorial Baptist Church, in the village of Harlem, under the spiritual guidance of the late Bishop Preston R. Washington Sr. His next stop on this road leads him to Greater Tabernacle Baptist Church of Jersey City, New Jersey under Rev. Hugh E. Best, Pastor. It was here that God elevated Dr. Hoist to serve as a Deacon and later become the Chairman of the Deaconate Ministry.
Continuing to follow God's call, Dr. Hoist was lead back to New York City to serve on the Ministerial Staff of The Greater Universal Baptist Church of the Bronx, N.Y., under the leadership of Rev. Dr. Daniel Dupree. Dr. Hoist was licensed in 2000 and ordained in 2002 by Dr. Dupree, and given the opportunity to teach the weekly Tuesday night Bible Study for the next four years. Dr. Hoist served as the Executive Minister and Commissioner of Worship Support until December of 2007. Dr. Hoist was called to the Pastorate of Bethel Baptist Church on January 1, 2008. He was installed as the Senior Pastor on March 30, 2008.
Dr. Hoist obtained his theological education at The Manhattan Bible Institute (MBI). Studying to show himself approved at night for eight years, he received the Bachelor's of Theology Degree in May 2005, his Master's of Divinity Degree in May of 2006 and his Doctor of Theology Degree in June 2013, conferred from the Anchor Theological Seminary and Bible Institute, Texarkana, Arkansas. In the Fall Semester of 2005, Dr. Hoist returned to his Alma Mater to join the teaching faculty as an instructor. He is blessed to share his knowledge with others teaching the course on Christian Workers and in 2012 he began teaching General Bible II. In the fall of 2018 Dr. Hoist began teaching Advanced Pedagogy course. In 2019, he was appointed as the Dean of Christian Education at the Manhattan Bible Institute, NY, NY.
Dr. Hoist is the Pastor of Bethel Baptist Church of St. Albans Queens NY, served as a Chaplin with the United Chaplin International Worldwide Outreach (U.C.I.W.O.) Inc. and the Director of the Youth Department. In 2008 he was appointed to serve the U.C.I.W.O. as the 2nd Assistant to the New York State Director, both positions he has since vacated because of scheduling conflicts with his duties at Bethel B.C. Another important aspect of his chaplaincy was the service he provided for BronxConnect, a ministry of the Urban Youth Alliance. For this organization, Dr. Hoist worked as a volunteer mentor with troubled youth, and was a recruiter for men and women seeking to become mentors to young men and women who needed positive role models in their lives until the program closed for lack of funding. He presently serves as the Vice President of the Baptist Ministers Conference of Queens and Vicinity.
Rev. Dr. Hoist's life scripture is "Rejoice in the Lord always; and again I say, Rejoice" Philippians 4:4.
Rev. Dr. E. Regina Hoist, RN, is the Co-Pastor of The Bethel Baptist Church of St Albans, NY where she labors in team ministry with her husband Rev. Dr. Ralph H. Hoist, III, Senior, Pastor.
Delivered on Valentine's Day to Mamie Ellen and the late Willie Kenneth Sheppard, Sr., Rev. Dr. Hoist, is a native New Yorker and the eldest of three daughters. Dr. Hoist received her call to ministry when anesthesia failed to put her to sleep at the start of a spinal operation in January of 1998. Lying face-down on an operating room table, with the procedure in progress, screaming in her mind as she was unable to speak, she saw a brilliant light and heard the voice of the Lord telling her "Be calm, I am with you and everything is going to be alright."
Rev. Dr. Regina began her Christian journey at Memorial Baptist Church where she was baptized, together with her daughter Danette, by the late Bishop Preston R. Washington, Sr. in the early 1980's. She remained a member of Memorial until moving to New Jersey with her husband, where they joined the Greater Tabernacle Baptist Church in Jersey City under Pastor Hugh E. Best. The Lord's need of her service at Greater Tabernacle included serving as the Church Clerk, Superintendent of the Sunday School, and secretary of the Deaconess Ministry.
Rev. Dr. Regina's journey after six years, returned her back to New York to The Greater Universal Baptist Church in the Bronx where she was blessed to be ordained by her spiritual father and Pastor Rev. Dr. Daniel Dupree. Her service in this Christian venue included being a member of the Ministerial Team, Commissioner of Christian Education, Young Adult Sunday School Teacher, Coordinator of the Health Ministry and an active member of the Women's Fellowship, all which served to prepare her for the Lord's current use of her at Bethel Baptist Church.
Rev. Dr. Regina's Christian service extends beyond her leadership and service to her Bethel Baptist Church family to include the Christian community at large. She is the past President of the Minister's Wives and Minister's Widows Alliance of Newark New Jersey and Vicinity, is the current First Vice President of Dorcas Alliance Minister's Wives and Minister's Widows, and has served the NJ Association of Ministers' Wives and Ministers' Widows (NJAMWMW) as the Dean of Education for eight years under State President Evangelist Dr. Loretta Dupree. Rev. Dr. Regina was also privileged to have served the International Association of Minister's Wives and Minister's Widows, Interdenominational, as a member of the teaching faculty for eight years under President Dr. Janie Charles Holmes. She has taught for the state of New Jersey's Annual Baptist Convention and is a member of the Queens Pastor's Network and the Ecumenical Federation of Queens Pastors. She serves as the Chair of the Scholarship Committee and Conference Coordinator for The New York State Association of MWMW, is Dean of Education and Parliamentarian for the Baptist Ministers' Wives & Minister's Widows of Greater NY & Vicinity, serves as the Parliamentarian for the NJAMWMW, and is an Assistant Education Instructor for the Eastern Baptist Association of Ministers' Wives and Ministers' Widows Fellowship.
Rev. Dr. Regina is a Registered Nurse and holds a Bachelor's of Science Degree, Masters of Science Degree and a Doctoral Equivalency from The City University of New York (CUNY). She has received certification in evangelism from The Manhattan Bible Institute, in New York City and looks forward to returning to her studies where she has completed several years of seminary work at Drew University's Theological School in Madison New Jersey. Prof. Hoist (as she was known by her colleagues, staff and students) is the creator and past Director of the Licensed Practical Nursing Program at Bronx Community College, and a retired tenured Full Professor, Deputy Chairperson of The Department of Nursing and Allied Health Sciences.
Rev. Dr. Regina's service goes on to include working for the Greater New York City area where she is a member of the Medical Reserves Corp, an organization devoted to meeting the city's needs during disasters and emergencies. With her spare time, Rev. Dr. Regina is a board member on the Board of Directors for BronxCare Dr. Martin Luther King Jr. Health Center.
Many scriptures provide strength to Pastor Regina's life however, the foundation builders sacred to her spiritual focus are, "Create in me a clean heart, O God, and renew a right spirit within me;" and "Be yea transformed by the renewing of your mind." Co-Pastor Regina, as she is affectionately called by her Bethel Family, lives by the belief that a changed mind will bring about a changed heart along with this principle, that was scared to her late father, "If I can help somebody along the way, then I would not have lived my life in vain." Pastors Ralph and Regina are blessed to have five wonderful children, Ralph IV, Danette Ellen, Philip, William III, Funlayo Easter and five precious grandchildren, Tajah, Kenneth (KJ), Bree Michelle Ellen, Jordan and Calee.