Welcome to Bethel Baptist Church!

Our ministry team is waiting to welcome and serve you! Find out more about our church, view upcoming events and more using the links above and keep up with all our happenings on Facebook.
God bless us!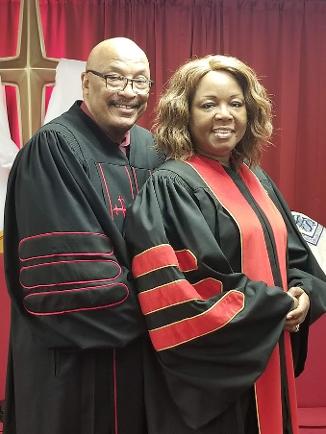 Rev. Dr. Ralph H. Hoist, III
&
Rev. Dr. E. Regina Hoist
Pastors of Bethel Baptist Church
Weekly Schedule
Sunday
Holy Communion ~ 1st Sunday ONLY
9:30 AM ~ Sunday School
10:45 AM ~ Worship Service
Summer Hours (July-August)
9:45 AM ~ Worship Service
Wednesday
6:00 AM - 6:00 PM ~ Church-wide Fast
8:30 AM - 8:50 AM ~ P.O.W. (Prayer on Wednesday)# (605) 475-5900, Code: 3809601#
12:00 Noon - Corporate Prayer
Saturday
9:00 AM ~ New Disciples Class
10:00 AM ~ Bible Study (Every Saturday)
11:00 AM ~ Sons of Boaz Men's Ministry (3rd Saturdays Only)

11:00 AM ~ Queens Vashti & Esther Women's Ministry (3rd Saturdays Only)
Rose of Sharon Marriage Ministry (3rd Saturday, bi-monthly)
Connect with Bethel!
197-23 Linden Blvd.
St. Albans, NY 11412
(718) 528-2565 BethelBaptistChurch197@gmail.com
Office Hours: 10am-2pm;
Tuesday - Wednesday
We welcome your tax-deductable donations!
Please visit our videos page and hear an extraordinary Word by our Pastors!
Save the Dates
January 2020 ~ 13th Pastoral Anniversary Celebration
Details posted on the events page.
The VISION Of The House
The Church that Lives in G.R.A.C.E.
G - God Fearing
R - Relationship Building
A - Anointed Body
C - Christ Centered
E - Evangelical
Mission:
To let our LIGHT shine helping to ENLIGHTEN others.
Focus:
How will the closing of this church affect the community?

Site design by Funlayo

Maintained by the BBC Media Ministry .